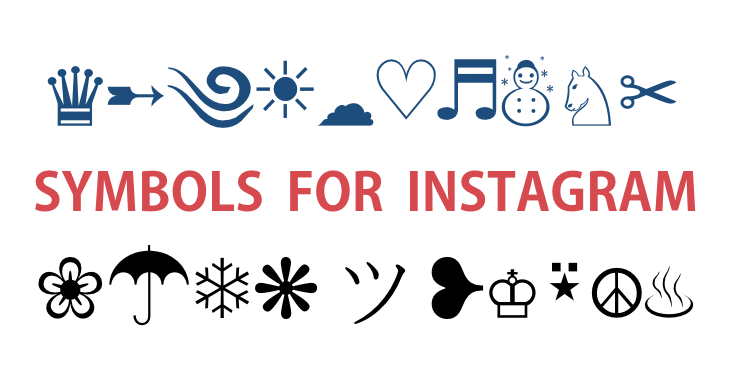 What is the text symbols and why use them?
Text symbols are real text and are available to copy and paste anywhere. Unlike emojis, they can be used across platforms, i.e. with few exceptions, these look the exact same on every platform or device.
Here we collect all kinds of symbols. It is the best place to copy and paste text symbols from! You can copy and paste any of these symbols to decorate the heading & text in your Instagram or other social media postings.
Tips on how to copy and paste
On Windows and Mac:
Right-clicking a selected symbol
Choose Copy in the menu
Right-clicking space where you'd like to paste
Choose Paste in the menu
On the phone:
Tap and hold on the symbol you want to copy
Tap Copy in the menu that appears
Tap and hold in the space where you'd like to paste
Tap Paste in the menu that appears
Symbols for Instagram
Star Text Symbols
★✭✮✯✰✩✦✧✫✬✡✪❂
⋆✢✣✤✥❋✱✲✳✴✵✶✷✸✹
✺✻✼❄❅❆❇❈❉❊
Heart Symbols
♥♡❤❥❣❦❧დღ۵ওლ
Arrow Symbols
↞↟↠↡↼⇀⇄⇅⇋⇠⇡⇢⇣⇤⇥⇦⇧⇨⇩
➔➟➢➥➵↵⤴⤵↔⟳⇳⤮
Check Mark & Tick Symbols
✓✔✗✘☓∨√✇☑☒〤
Line & Triangle Symbols
│╏║╽〣☰═╼┄﹋⑊
◄▲▼►◁△▽▷◭⫷⫸◬⑅
Degree, Weather & Unit Symbols
°℃℉ϟ☀☁☂☃☉☼☽☾♁♨❄❅❆㎎㎏㎜㎡
Male, Female & Smiley Symbols
♀♂☹☺☻☿〠ツ㋡웃유⍢⍣⍤⍥⍨⍩ὃ⚢
If you want to get more black and white emoji symbols, you can check out How To Send Black And White Emoji Symbols.
And, if you want more colorful emojis and don't mind that they look different on various platforms or devices, then check out this site: ? Emojipedia — ? Home of Emoji Meanings ????